Perricone MD
Advanced Eye Area Therapy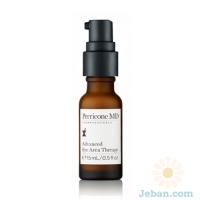 Perricone MD
Advanced Eye Area Therapy
Product Detail
Advanced Eye Area Therapy is made with a blend of patented ingredients that work synergistically to help prevent and correct concerns around the delicate eye area: puffiness, dark circles, fine lines and wrinkles. This formulation is unique because it delivers a combination of potent sciences rarely found in one product including GABA, Vitamin K, Vitamin B3, Caffeine, Alpha Lipoic Acid, DMAE, Vitamin C Ester and Folic Acid. With continuous use, the delicate skin around the eyes will appear less puffy, more toned and brighter.
BENEFITS
- Works to correct the appearance of dark circles, blueness and any other skin discoloration.
- Reduces the appearance of puffiness and under eye bags.
- Improves the appearance of fine lines, wrinkles and sagging skin.
- Helps skin appear more firm, lifted and toned.
- Helps to brighten the skin.
- Paraben-free.
Price (Size)

0 (15 ml)

URL
ไอเท็มนี้ดูแลเรื่อง
Add to Compare
Favorite
Share