Too Cool For School
1 Day Tattoo : Waterproof Eyeliner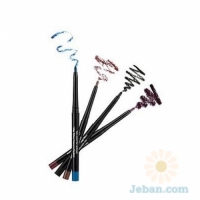 Too Cool For School
1 Day Tattoo : Waterproof Eyeliner
Product Detail
: Draw in the morning, stays perfect till evening!
: Waterproof and no blots, Waterproof fitting polymer Strong resistance against water, Clean eyeline all day long.
: Sliding smooth feel, Soft content draws line sliding soft. Ideal for application on a fragile & sensitive eye area.
: Once drawn, micro black pigment enables clean and strong look, No need for multiple application. Experience that economy.
Colors
Add to Compare
Favorite
Share
สีชัด ลบยาก เหมาะแต่งลงน้ำค่ะ
สีสม่ำเสมอ

5.0

ติดทน กันน้ำ กันเหงื่อ

5.0

ความคมชัด

5.0

ใช้ง่าย ถนัดมือ

5.0

ล้างออกง่าย

1.0

ไม่ระคายเคือง

5.0