Blistex
Simple and Sensitive™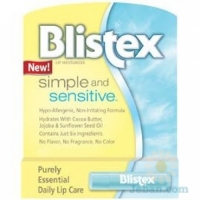 Blistex
Simple and Sensitive™
Product Detail
Blistex Simple and Sensitive contains just six carefully chosen ingredients to moisturize even the most sensitive lips effectively and without irritation...for care your lips will love.

Non-Irritating:
With no flavors, fragrances, colors or unnecessary sensitizing ingredients, Simple and Sensitive's hypo-allergenic formula is rigorously tested and clinically proven to be gentle
on lips.

Only Six Ingredients:
Cocoa Butter, a lush tropical extract with serious moisturizing properties.

Sunflower Seed Oil, a nutrient-rich oil selected for its comforting qualities.

Jojoba, a naturally derived emollient that helps smooth and soften lips.

Vitamin E, a highly beneficial antioxidant.

Microcrystalline Wax helps give the formula an appealing feel and form.

Phenoxyethanol, a necessary preservative to maintain freshness.
Price (Size)

URL
Add to Compare
Favorite
Share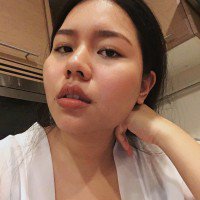 AnyoneElseButYou
4 years ago
เหมาะสำหรับคนแพ้ง่าย ไม่มีสี ไม่มีกลิ่น ไมผสมสารกันแดด ทาเอาความชุ่มชื่นล้วนเลย
ความชุ่มชื้น

5.0

กลิ่น

5.0

ซึมซาบเร็วไม่เหนอะหนะ

3.0

ลดรอยหมองคล้ำจุดด่างดำ

2.0

ปกป้องรังสี UV

2.0

ลดริ้วรอยร่องลึก

2.0