Ambre Solaire by Garnier
Clear Protect Transparent Body Protection Spray SPF10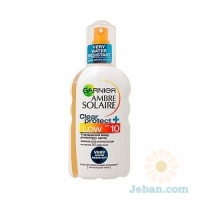 Ambre Solaire by Garnier
Clear Protect Transparent Body Protection Spray SPF10
Product Detail
Ambre Solaire Clear Protect Spray SPF30 is the perfect balance of moisturising care and protection with advanced UVA and UVB photostable filters. Designed as a unique transparent sun protection spray it is easily absorbed to leave skin refreshed and protected. Mexoryl® XL is an advanced patented filter unique to Ambre Solaire formulated to hydrate and protect the skin from sunburn and skin damage. This innovative spray can be used at any angle, making those hard to reach places easy to cover.

Advanced UVA and UVB photostable filters
100% transparent
Water resistant
Non-sticky, non-greasy, rapidly absorbed formula
Multi angle spray design
How to Use
Shake well before use
Do not apply on the face
Apply the suncreen product just before sun exposure.
Re-apply frequently and generously to maintain protection, especially after swimming, perspiring or towelling.
Keep yourself well covered, including hat, T-shirt and sun glasses
Hazards and Cautions
This product contains alcohol. Do not apply on the face or on inflamed skin. Do not use on children.
Do not spray on a naked flame or any incandescent material.
Keep away from flames, sparks and sources of ignition.
Avoid spraying towards the eyes or on inflamed skin.
In case of contact rinse immediately with plenty of water.
Over-exposure to the sun is dangerous.
Do not stay too long in the sun, even while using a sunscreen product, because it does not provide 100% protection.
Avoid sun exposure at peak hours.
Avoid the eye area. In case of contact with eyes, rinse them immediately and thoroughly.
Avoid contact with fabrics.
Use sunscreen products that offer sufficient protection for your skin.
Price (Size)

0 (200 ml)

URL
Add to Compare
Favorite
Share