Champneys
Double Action : Eye Make-Up Remover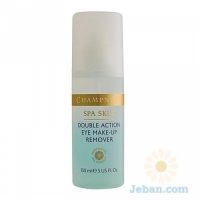 Champneys
Double Action : Eye Make-Up Remover
Product Detail
This gentle eye make-up remover combines Pro-vitamin B5 and soothing witch hazel to leave your delicate eye area completely cleansed and soft.
How to Use
Champneys therapists recommend...

...shake well, then dispense onto two damp cotton wool pads, one for each eye.

Gently hold over closed eyes briefly, before sweeping out and down over your eyelids and lashes.
Price (Size)

0 (150 ml)

URL
ไอเท็มนี้ดูแลเรื่อง
Add to Compare
Favorite
Share