Maxim Contactlens
Bigger Color Eyes Color Contact Lens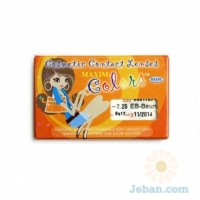 Maxim Contactlens
Bigger Color Eyes Color Contact Lens
Product Detail
Bigger Color Eyes
Monthly disposable contact lens

Company: Vision Science, Korea
Power: Plano to -9.00 (-5.00 Step 0.50 D)
Material used: Polymacon
Diameter: 14.5
Base Curve: 8.7
Water Content: 42
Thinness(mm.): 0.05 to 0.11
Production used: Cast Mold + Sandwich Method
DK/L: 28 x 10(-9)
Tint: Baby Blue, Choco Brown, Eb-Beun, Moongray, Big Blue, Big Brown,
Big Gray, Big Violet, Chocolate

New Technology

1. Color-Lock System (CLSTM)
CLS, Sandwiches, three tones of colors between the layers of the Maxim Colors Lens and protects the colors.

2. Edge Polish: Maxim Contact Lens new edge is more than 20% thinner that the current edge and is more comfortable to wear.

3. Lathe Cut: Maxim Contact Lens are moulded and lathe cut on their surface for high quality and comfore.

4. UV Protection: Maxim Contact Lens comes with Ultraviolet (UV) protection and can prevent harmful UV rays from reaching you eyes.

5. NaHA: Sodium Hyaluronate (NaHA) is an ingredient of Maxim Contact Lens. NaHA keeps the lens moist and hydrated so it is smoother and more comfortable to wear.
Price (Size)

URL
ไอเท็มนี้ดูแลเรื่อง
Add to Compare
Favorite
Share
เราใส่แล้วรู้สึกว่า คอนแทคแข็ง ขอบคม ลายปีกสวยดี แต่รู้สึกมันหลอกๆ แบบ ตาดำใหญ่ไป ไม่มีตาขาว อารมแบบจูออน =_=
เจ็บตา ลายน้อย แพง
รวมรวม ไม่เอาอีกแล้ว
ไม่ระคายเคือง

2.0

ดูเป็นธรรมชาติ

3.0

ความทนทาน

3.0

ติดง่าย

2.0
Products
you might be interested