Glytone
Acne : Treatment Gel 10% Benzoyl Peroxide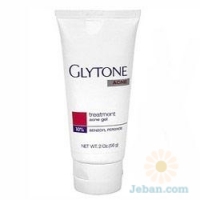 Glytone
Acne : Treatment Gel 10% Benzoyl Peroxide
Product Detail
Oil-free, non-comedogenic vehicle for the treatment of acne.
HOW TO USE IT
Cleanse skin thoroughly before applying. Cover entire affected area with a thin layer 1 to 3 times daily. Excessive drying of the skin may occur, start with 1 application daily, then gradually increase to 2 or 3 times daily if needed or as directed by a doctor.
FULL INGREDIENTS
Active Ingredient: Benzoyl Peroxide 10% Inactive Ingredients: Carbomer 940, Imidazolidinyl Urea, Methylparaben, Purified Water, Triethanolamine.
Add to Compare
Favorite
Share