Glytone
Step-Up : Rejuvenate Exfoliating Lotion 2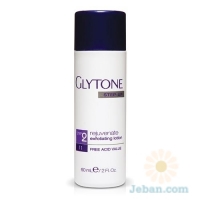 Glytone
Step-Up : Rejuvenate Exfoliating Lotion 2
Product Detail
Penetrates overnight to exfoliate the top layer of skin to enhance skin tone for a healthy revitalized complexion. The acid levels in the Rejuvenate Exfoliating Lotions coordinate with each of the levels of the Step-up program. They are formulated with Extract of Rosehips with Vitamin C and are completely oil free to provide maximum exfoliation. Contains 11% of Free Acid Glycolic.
HOW TO USE IT
Apply nightly to cleansed face and neck.
FULL INGREDIENTS
Water, Glycolic Acid, Glycerin, Potassium Hydroxide, Magnesium Aluminum Silicate, Xanthan Gum, Rose Extract, Octoxynol-9, Propyl Gailate, Sorbic Acid, Xanthum Gum.
Add to Compare
Favorite
Share