Glytone
Essentials : Fading Lotion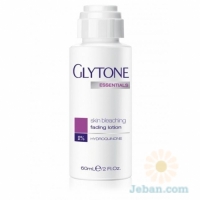 Glytone
Essentials : Fading Lotion
Product Detail
Glytone Essentials Fading Lotion is a potent skin lightener and brightener. It uses 2% Hydroquinone, 1% Kojic Acid, and 5% Glycolic Acid to blast away discoloration. This spot treatment targets unwanted hyperpigmentation and allows you to easily apply with a precision "dab-n-go" design.

WHO IT'S FOR
For those with age spots, acne scars, melasma, and other hyperpigmentation.
KEY INGREDIENTS
Hydroquinone and Kojic Acid lighten the skin. Glycolic Acid exfoliates.
HOW TO USE IT
Apply a thin layer on affected areas, twice daily, morning and night or as directed.
FULL INGREDIENTS
Hydroquinone 2%. BHA, BHT, Disodium EDTA, Glycolic Acid, Hydroxyethyl Ethylcellulose, Isopropyl Alcohol, Kojic Acid, Nordihydroguaiaretic Acid, Octoxynol-9, Propylene Glycol, Water (Aqua), Sodium Bisulfite, Sodium Metabisulfite.
Add to Compare
Favorite
Share