Glytone
Post-Op Soothe Calming Cream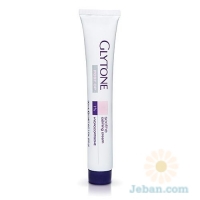 Glytone
Post-Op Soothe Calming Cream
Product Detail
Don't irritate your skin further by scratching. Glytone Post Op Soothe Calming Cream relieves your skin so you are able to focus on things other than the itch.
WHO IT'S FOR
For those with minor skin irritations.
WHAT IT'S FOR
To relieve the pain and itching associated with minor skin irritations and rashes. To moisturize and calm the skin.
KEY INGREDIENTS
Hydrocortisone calms skin irritations and itch. Glycerin gently hydrates the skin.
WHY WE LOVE IT
It provides instant relief.
HOW TO USE IT
Apply to affected area no more than 3 to 4 times per day.
FULL INGREDIENTS
Active Ingredients: Hydrocortisone 1%.
Other Ingredients: Water, Propylene Glycol, Petrolatum, Cetearyl Alcohol, Glycerin, PEG-40 Stearate.
Add to Compare
Favorite
Share