Glytone
Skin Bleaching Clarifying Gel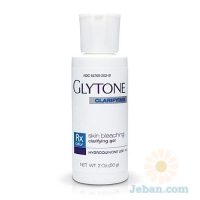 Glytone
Skin Bleaching Clarifying Gel
Product Detail
Glytone Skin Bleaching Clarifying Gel is no longer available.

If you're searching for a healthy and effective alternative, we recommend the La Roche-Posay Biomedic Conditioning Gel. Using a 2% Hydroquinone concentration, Glycolic Acid, and Salicylic Acid, it lightens hyperpigmentation, smooths the skin's texture, and clears out the pores. You will find this product to be less irritating on your skin, with a smaller chance of redness, flaking, and peeling.
WHO IT'S FOR
Ideal for normal to oily, hyperpigmented skin from sun damage, hormones, or acne. It lightens the skin to match the surrounding pigment.
KEY INGREDIENTS
Hydroquinone reduces hyperpigmentation in the skin including age spots and melasma.
HOW TO USE IT
Apply nightly to the affected area or as directed by your physician.
FULL INGREDIENTS
Each gram of clarifying Gel contains 40 mg of Hydroquinone USP in a gel base of Purified Water, Propylene Glycol, Carbomer 940, Sodium Bisulifite, Edetate Disodium, Sorbic Acid, Glycerin.
Add to Compare
Favorite
Share