Dermablend
Pro : Foundation Brush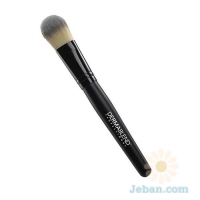 Dermablend
Pro : Foundation Brush
Product Detail
Go green and flawless with Dermablend Pro Foundation Brush. This luxurious foundation brush was specially designed to achieve desired coverage of all our Dermablend foundations. The tapered head allows for application in even the small areas such as around the nose, lip and chin area.
WHO IT'S FOR
Ideal for those who want an environmentally friendly foundation brush.
WHY WE LOVE IT
* Black Bamboo Handle: Bamboo is a highly renewable and sustainable resource and is one of the fastest growing plants on earth.
* Black Glossy Ferrule: made from recycled aluminum
* Brush Bristles: contain no animal hair
HOW TO USE IT
Start from the nose/under eye area and work out towards the jawline. Use light strokes for a final flawless finish.
Add to Compare
Favorite
Share