Cathy Cat
Cat Eye Wonder Film Mascara Curling & Volume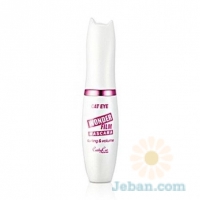 Cathy Cat
Cat Eye Wonder Film Mascara Curling & Volume
Product Detail
: Uses herd wax with the high melting point to strengthen water resistant and peel off power.

: Uses film form with powerful waterproof to remain sharp eye look without smudging for hours.

: Big size of pine brush lifts lightly to offer curling and volume effect at the same time.
Add to Compare
Favorite
Share