Good Things
Ultra Rich : Creamy Scrub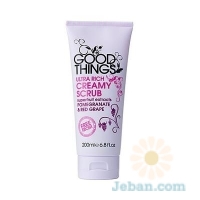 Good Things
Ultra Rich : Creamy Scrub
Product Detail
Dry skin needs exfoliating with care. Our dreamy-creamy scrub with its
rich fragrance of pomegranate and juicy red grape will do the job
brilliantly, and will keep your skin soft at the same time. Smooth micro-beads and cranberry seeds work to lift away dead skin cells while the gentle formula helps to keep skin smooth and silky soft.
Add to Compare
Favorite
Share