Ole Henriksen
Ultimate Lift Eye Gel PM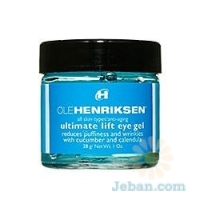 Ole Henriksen
Ultimate Lift Eye Gel PM
Product Detail
An antiaging treatment that reduces puffiness, sagging, and wrinkles in the eye area.

What it is formulated to do:
Suited for all skin types, this instantly revitalizing essential harnesses the natural power of cucumber and calendula to counter signs of fatigue, irritation, and age. It intensely hydrates, using humectants to plump, firm, and smooth the often-neglected eye zone.
ไอเท็มนี้ดูแลเรื่อง
Add to Compare
Favorite
Share