Ole Henriksen
Sheer Transformation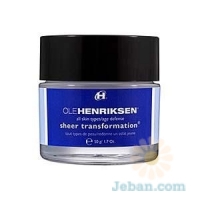 Ole Henriksen
Sheer Transformation
Product Detail
An antiaging, skin-perfecting complex.

What it is formulated to do:
Ole Henriksen Sheer Transformation helps fade skin discolorations—hyperpigmentation, age spots, and sun damage—without the use of chemicals. It instantly nourishes and retexturizes the complexion, smoothing fine lines while providing intense free-radical protection to help prevent further damage. The light, creamy formula leaves skin feeling silky.
ไอเท็มนี้ดูแลเรื่อง
Add to Compare
Favorite
Share