WELEDA
Almond Soothing : Cleansing Lotion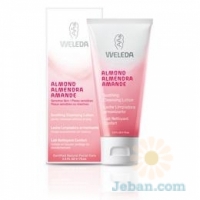 WELEDA
Almond Soothing : Cleansing Lotion
Product Detail
gently cleanses without drying

Sensitive and reactive skin gets soothed and restored with this gentle hypoallergenic Almond Soothing Cleansing Lotion. This natural face wash is a creamy, fragrance-free facial treatment with organic ingredients that gently cleanses and protects your skin.

Organic sweet almond oil in our Weleda Almond Soothing Cleansing Lotion is packed with essential fatty acids that help nourish and soothe your sensitive skin while balancing your natural moisture level for truly healthy beauty. Plum kernel oil in this natural face wash contains high quantities of antioxidants and vitamins A and E, which absorb easily to soften your skin and protect from harmful environmental influences. Your skin feels refreshed, soft and balanced when you use Weleda Almond Soothing Cleansing Lotion. Delightfully mild, you can't help but be soothed by the purity of your naturally cleansed skin.
Price (Size)

0 (3 oz.)

URL
Add to Compare
Favorite
Share