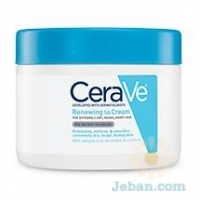 Cerave
SA Renewing Cream
Product Detail
Developed with Dermatologists, CeraVe® SA Renewing Cream helps restore and repair extremely dry, rough skin. Its patented Multivesicular Emulsion (MVE®) provides controlled release over time with ceramides that moisturize and soften skin.

CeraVe® SA also uses salicylic acid to help slough off dry, rough, bumpy skin. It's also enriched with antioxidant vitamin D, and is noncomedogenic, non-irritating and fragrance-free.
Patented Multivesicular Emulsion (MVE®)

As salicylic acid works to loosen and exfoliate dead skin cells, patented MVE® technology allows a controlled release of nourishing ceramides, hyaluronic acid and antioxidant Vitamin D into the skin to help repair and maintain the normal barrier. Salicylic acid's exfoliating action allows these moisturizing ingredients to penetrate the skin more easily, leaving it smooth and touchable.
Elegant Formulation

CeraVe® SA Renewing Cream spreads easily and smoothly and absorbs rapidly. The nongreasy cream is ideal for tougher-to-treat areas such as heels, elbows, and feet. CeraVe SA works with the entire line of CeraVe® products to give you silky, smooth skin!
Developed with Dermatologists

Dermatologists recommend CeraVe® SA Renewing Cream to help exfoliate, soften, smooth, and restore extremely dry, rough, bumpy skin. Ask your dermatologist about the CeraVe® Skincare line.
Price (Size)

0 (12 oz.)

URL
Add to Compare
Favorite
Share
SCORE AVERAGE :
ชุ่มชื้นช่วยให้ผิวยืดหยุ่น
ครีมไม่มีกลิ่น มีกรดซาลิไซลิคที่แอคทีฟ เมื่อก่อนเวลามีขนหน้าแข้งแล้วโกน จะมีขนคุดแล้วคันมาก พอได้ครีมนี้มาทา หมดปัญหาขนคุดหรือคันเวลาที่ขนจะงอก หมดปัญหานี้ไปเลยค่ะ ผิวเรียบเนียนขึ้น ชุ่มชื่น ไม่เหนอะหนะ เคลือบผิวได้ดีค่ะ
ใช้ได้กับผิวแพ้ง่าย

5.0

ซึมซาบเร็วไม่เหนอะหนะ

3.0

ชุ่มชื้นช่วยให้ผิวยืดหยุ่น

5.0