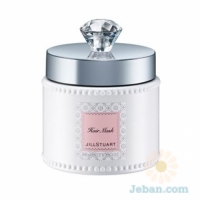 JILL STUART
Hair Mask
Product Detail
・A hair mask that provides focused care into the deepest parts of your hair, leading you to lustrous hair that is also as smooth as silk.
・Honey and floral beauty essences and hair repair agents are sent into your hair, while highly adhesive oils bring back shine to dry hair and lock in moisture.
・Color care formulation that heightens the hold of hair color. Repairs damage caused by coloring your hair and also prevents the fading of color.
* Cuticle tightening agent * Hair coating agent * Color keeping CMC repair agent
・While beauty essences supply moisture to your hair, mild acids suitably tighten your cuticles. Also prevents friction damage to your hair during rinsing out.
・A highly adhesive oil formulation provides a softer finish. Recommend for damaged hair that also has a tendency to dry out.
・Hair coating agents envelop the surface of your hair in a uniform layer, beautifully reflecting back the light and bringing you hair a jewel-like luster.
・Fragrance of aromatic white floral bouquet.
・A translucent and pure, clean & modern design. A simple white bottle that blends perfectly into your bathroom, with a crystal motif cap reminiscent of a diamond.
Price (Size)

URL
Add to Compare
Favorite
Share
ชอบมาก ผมลื่นและเรียบขึ้นชัดเจน
ราคา : ปริมาณ

4.0

ความสะดวกในการใช้

5.0

กลิ่น

5.0

ช่วยฟื้นฟูสภาพผม

5.0

ผมนุ่ม ลื่น ไม่พันกัน

5.0

ช่วยให้ผมมีน้ำหนัก

5.0
ใช้แล้วบอกเลยว่าผมนิ่มสุด กลิ่นหอมติดทนนาน ไม่สระผม 3 วันผมยังหอมเลย
ราคา : ปริมาณ

5.0

ความสะดวกในการใช้

4.0

กลิ่น

5.0

ช่วยฟื้นฟูสภาพผม

4.0

ผมนุ่ม ลื่น ไม่พันกัน

5.0

ช่วยให้ผมมีน้ำหนัก

5.0