Jill Sander
Tuberose & Perfumed Dress Glimmer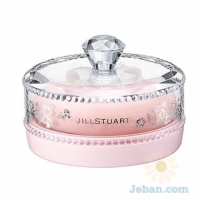 Jill Sander
Tuberose & Perfumed Dress Glimmer
Product Detail
Product features:
・A solid beauty essence that combines smooth, emollient-style application with a powdery feel.
・While completely moisturizing beneath your skin, also makes its surface silky and smooth. Highlighted with a gentle pink color and wreathed in pearls, your skin will give off a delicate sparkle.
・Allowing a natural luster and gentle fragrance to be enjoyed, use is also recommended in other areas, including your décolletage, neck, arms and legs.
・Formulated with moisturizing ingredients that include white strawberry extract, calendula extract and damask rose extract, and emollient ingredients that include mango seed oil, rosehip oil and shea butter, making your skin supple and smooth.
・Taking the JILL STUART RELAX clean & modern image, a romantic design that uses pink as a base color and then scatters it with roses and other flowers. The clear cover with a crystal motif and puff with a white ribbon combine together to depict an even sweeter image.
・Fragrance of Tuberose & Rose.
Price (Size)

URL
Add to Compare
Favorite
Share