Cosmopolitan Beauty Expert
RealTouch Amazingly Real Nails : Naturally French - Style 10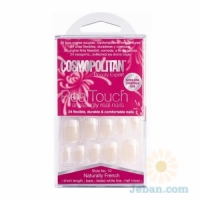 Cosmopolitan Beauty Expert
RealTouch Amazingly Real Nails : Naturally French - Style 10
Product Detail
Style No. 10 - Naturally French. Short length. Bare. Faded white line. Half moon.

24 flexible, durable and comfortable nails. Sized for everyday use. Pink gel glue inside.

From the Beauty Experts at Cosmopolitan comes RealTouch Amazingly Real Nails, a collection of beautifully natural salon-quality nails.

Directions:
Simple application:
1. Push back cuticles and apply an even, thin layer of glue onto your natural nail.
2. Place Cosmopolitan Beauty Expert RealTouch Amazingly Real Nail up to your cuticle and lower gently.
3. Press firmly and carefully for approximately 5 seconds until set.
Add to Compare
Favorite
Share