Cosmopolitan Beauty Expert
4-Way Nail Buffer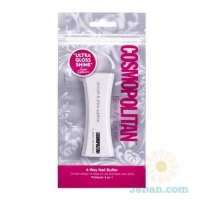 Cosmopolitan Beauty Expert
4-Way Nail Buffer
Product Detail
Curved design for ease of use and best-ever shine.

Make this high performance Cosmopolitan Beauty Expert 4-Way Nail Buffer an essential part of your nail care regime to ensure nails look naturally glossy in 4 simple steps. The ergonomic shape is comfortable to hold giving firm grip to allow you to even out ridges, smooth and buff nail surfaces and shine to an amazing ultra gloss finish.

Directions:
Cosmopolitan beauty team tips:
"To ensure maximum natural shine, time and time again, wipe clean the buffer sides after each use with a damp cloth and leave to dry naturally. Also be careful not to touch your nails after buffing, the natural oils from your skin will dull the shine."
Add to Compare
Favorite
Share