Cosmopolitan Beauty Expert
Precision Tweezer Trio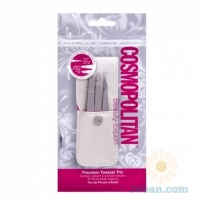 Cosmopolitan Beauty Expert
Precision Tweezer Trio
Product Detail
Slanted, straight & pointed tweezers for all-purpose tweezing.

Achieve and maintain perfectly tended brows with this professional Cosmopolitan Beauty Expert Precision Tweezer Trio combination that comes with its own wallet.

The Cosmopolitan Beauty Expert Precision Tweezer Trio includes:
- Slanted Tip Tweezer
- Straight Tip Tweezer
- Pointed Tip Tweezer
- Wallet

The Pointed Tip Tweezer is sharp, so please ensure the protective cap is kept on when not in use. Keep out of reach of children.

Directions:
To remove the most stubborn of hairs, including ingrown hairs, carefully use the Pointed Tip Tweezer. The Slanted and Straight tipped are for all purpose tweezing to shape and define brows to your preference.

Cosmopolitan beauty team tips:
"Be careful not to drop your tweezers. Dropping them can throw the tweezer out of alignment and affect accurate tweezing."
Add to Compare
Favorite
Share