Cosmopolitan Beauty Expert
Smokey Eyes Brush Set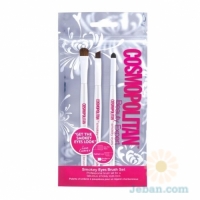 Cosmopolitan Beauty Expert
Smokey Eyes Brush Set
Product Detail
Professional brush set for a fabulous smokey eyes look.

Create a classic smokey eye look with this trio of professional brushes from the Beauty Experts at Cosmopolitan.

The Cosmopolitan Beauty Expert Smokey Eyes Brush Set includes:
- Base Brush
- Angled Brush
- Smudger

Directions:
Cosmopolitan beauty team tips - how to create the classic smokey eyes look:
1. Using the Base Brush apply a light coloured matt shadow all over the eyelid and up to your eyebrow.
2. Using the Base Brush apply a dark eye shadow on your eyelid and blend upwards, gently pressing the colour onto your eyelids to intensify the colour, then softly brush the shadow to finish just above your natural socket line, blending well with your brush for a soft graduation in colour. Sweep along your lower lash line to add a hint of colour.
3. Apply eyeliner close to the lash line and smudge into the roots of your lashes with the Smudger.
4. Take the Angled Blender with a darker toned eye shadow, sweep along both the upper and lower lid line to bring out the colour of your eyes. You can dampen the brush with water to increase the depth of colour. Use the Smudger to soften the edges to complete the smokey eyed look.
Add to Compare
Favorite
Share