Charlotte Tilbury
Brow Lift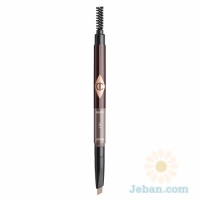 Charlotte Tilbury
Brow Lift
Product Detail
It's a well-known industry secret that a perfectly groomed eyebrow can give your entire face a lift. No look is complete without groomed eye brows – they frame your face and finish your eye make-up. I'm inspired by the Supermodel Brow of the nineties to create the prefect shape: it starts slightly squared off at the inner corner, tapers into a perfect arch and finishes in a fine point. I've made this as easy to achieve as one, two, three, with my 3-in-1 eye brow pencil that shapes, lifts and adds definition. Grace K is the lightest of my three Brow Lift products, and is recommended for those with blonde, light brown or red hair. To choose the right shade match the brow pencil to your hair colour. For a softer look, I prefer to go a little bit lighter.

• SHAPE: The brush end grooms brows and eliminates excess colour.
• LIFT: The highlighter end works with any skin tone. Applied under the arch, it lifts the brow for an instant brow lift.
Price (Size)

URL
Add to Compare
Favorite
Share
เขียนง่าย ครบครัน ใครเขียนคิ้วไม่เก่ง ไอเท็มนี้ช่วยคุณได้ เพราะเราเขียนคิ้วไม่เก่ง แท่งเดียวจบ
สีสม่ำเสมอ

5.0

ติดทน กันน้ำ กันเหงื่อ

5.0

ล้างออกง่าย

5.0

เฉดสีหลากหลาย

5.0

ความสะดวกในการใช้

5.0

ดูเป็นธรรมชาติ

5.0