Le Métier de Beauté
'Flawless Face' Kaleidoscope Face Kit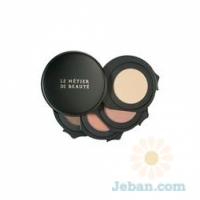 Le Métier de Beauté
'Flawless Face' Kaleidoscope Face Kit
Product Detail
The Kaleidoscope Face Kit combines Le Métier de Beauté's favorite face formulas in a clever internal stacking system exclusive to the brand. It's the perfect way to create the ideal makeup canvas on the go in a portable, compact kit.

The four face formulations in universal shades are (top to bottom):

Classic Flawless Face Finish Translucent Compact Powder: A lightweight, ultrafine milled powder that provides a perfectly radiant, soft matte finish.
- Highlighter in Whisper: Ideal for that final touch on cheeks and eyes to help illuminate a perfectly flawless complexion.
- Radiance Powder Rouge in Echo: A universally flattering blush shade with a hint of natural color. Color can be layered.
- Bronzer: For a gorgeous touch of sun-kissed healthy glow.

By Le Métier de Beauté.
Add to Compare
Favorite
Share