Le Métier de Beauté
'Breathless' Kaleidoscope Lip Kit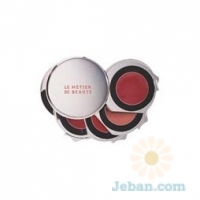 Le Métier de Beauté
'Breathless' Kaleidoscope Lip Kit
Product Detail
This season is all about the red lip. Introducing the Kaleidoscope Lip Kit in Breathless, a carefully crafted fusion of must-have crimson and red tones. Blending classic-Hollywood glam and ravishing '60s edge, the sumptuous shades leave you seeing red and craving more.

Shades include, from top to bottom:
- Cinema: a velvety, ultra-rich true red.
- Existential: sparkling mauve with rose effervescence.
- Beau: deep berry crimson with matte finish.
- Celluloid: a glimmering, creamy flushed red.

By Le Métier de Beauté.
Add to Compare
Favorite
Share