Holika Holika
Juicy Mask Sheet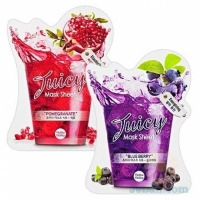 Holika Holika
Juicy Mask Sheet
Product Detail
Pomegranate: pomegranate that is rich of estrogen which promote vibrant and smooth-looking skin.
Blueberry: blueberry juice for vibrant skin (energizing)
Aloe: aloe juice for moisturizing (soothing)
Tea Tree: tea tree for clear and pure ski. Tea Tree oil is a natural remedy for treating acne (spot control)
Honey: honey extract contains sugar, mineral and vitamin. It helps to keep your skin well-moisturized and healthy. (nourishing)
Mango: mango juice for radiant skin that is full of vitality (revitalizing)
Tomato: tomato contains vitamin E and lycopene , it helps skin firm & youthful

SIZE: 1sheet (20ml)

DIRECTIONS:
Arrange skin texture with toner after wash. Fit mask sheet to face. after 15-20minutes, take off the mask and lightly pat liquid residue for absorption.
Price (Size)

0 (20 ml)

URL
Add to Compare
Favorite
Share
SCORE AVERAGE :
ชุ่มชื้นช่วยให้ผิวยืดหยุ่น
ที่ชอป Holika ชอบจัดโปร1แถม1บ่อยๆ คือเป็นeveryday mask หน้านุ่มในระดับหนึ่ง กลิ่นหอมดี ไม่แพ้
ความสะดวกในการใช้

5.0

ใช้ได้กับผิวแพ้ง่าย

5.0

กระชับรูขุมขน

3.0

ลดริ้วรอยระหว่างวัย

3.0

ชุ่มชื้นช่วยให้ผิวยืดหยุ่น

4.0

ลดรอยหมองคล้ำจุดด่างดำ

3.0