Medicox
24K Gold Sublime Stem Serum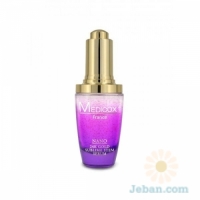 Medicox
24K Gold Sublime Stem Serum
Product Detail
Obtained and incorporated the phyto-stem cells into our new Sublime Stem Serum through advanced extraction technology.
Maintains the moisture and elastic skin.
Phyto-stem cells' unique re-growth and cell regeneration characteristic will restore the chrono-biologic major signs of aging.
Helps stimulate the skin fibroblasts in order to reconstitute the extra-cellular matrix, which leads to the synthesis of collagen I and IV. Encourages the skin renewal process with prime efficacy.
Price (Size)

URL
Add to Compare
Favorite
Share