Dr. Dennis Gross Skincare™
Botanical Cleansing Bar with Tea Tree & Aloe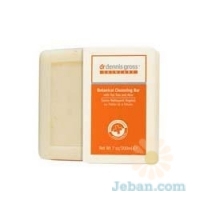 Dr. Dennis Gross Skincare™
Botanical Cleansing Bar with Tea Tree & Aloe
Product Detail
What is it?
A rejuvenating face and body cleanser that detoxifies skin, fights aging and provides a protective barrier that counteracts free radicals in the environment. This botanical cleansing bar formulated by Dr. Gross creates a rich, foaming lather with tea tree oil, organic aloe, papaya extract and other cleansing extracts and botanicals that purify and protect skin without stripping.

Who is it for?
Anyone seeking a face and body bar that does more than remove dirt and oil. This product also refreshes, heals, soothes, hydrates and protects with botanicals, essential oils and age-defying ingredients.

Why is it different?
This innovative bath bar is formulated with organic aloe and botanicals to naturally improve skin health, and orange peel extract to gently exfoliate. It also includes chelators, which are detoxifying compounds that protect skin from heavy metals and free radicals, and tea tree oil, which is known for its antibacterial properties and ability to rejuvenate tired, lackluster skin.
Add to Compare
Favorite
Share