Botanicals Fresh Care
Safflower Rich Infusion : Shampoo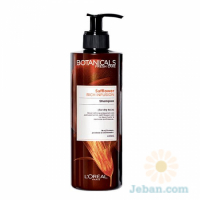 Botanicals Fresh Care
Safflower Rich Infusion : Shampoo
Product Detail
IDEAL FOR DRY HAIR

Botanicals Fresh Care Safflower Rich Infusion Shampoo associates our botanical complex with a rich infusion of safflower.

A sophisticated scent with oriental accents. To safflower, we added oriental base notes of amber, vanilla and cashmere wood — taking you and your hair on an aromatic journey!

A pearly white texture, at the crossroads between cream and milk … A genuine touch of kindness to your dry hair.

Massage onto wet hair, lather then rinse thoroughly. Follow with Conditioning Balm.
Price (Size)

399 (400 ml)

URL
Add to Compare
Favorite
Share