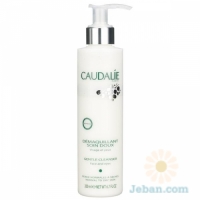 Caudalie
Gentle Cleanser
Product Detail
This smooth and velvety Caudalie Gentle Cleanser leaves the skin clean and soft, protecting against free radicals.

Who is it for?

For those with normal to dry skin wanting a soft, supple result.

Tips from your Vinotherapist:

•For combination skin, mix the Gentle Cleanser with the Instant Foaming Cleanser before rinsing off with warm water.

•For dry skin, mix the Gentle Cleanser with Gentle Buffing Cream to softly exfoliate the skin.

Our cosm-ethics: 0% parabens, phenoxyethanol, artificial colorings, mineral oils… No animal testing . Ophthalmologically tested.

How to Use
Apply with a cotton pad or directly to the skin. Massage in gently and rinse with water or a cotton pad soaked in Beauty Elixir.
Price (Size)

0 (200 ml)

URL
Add to Compare
Favorite
Share
ใช้เช็ดเครื่องสำอางคะ ค่อนข้างสะอาดดี ใช้แล้วผิวชุ่มชื้นดีไม่แห้ง มาในขวดหัวปั้มใช้ง่ายไม่สกปรก แต่เสียอย่างเดียวคือกลิ่นไม่น่าใช้เลยคะ ไม่ชอบอย่างแรงเลยหยุดใช้ไปเลย
ล้างออกง่าย

3.0

ราคา : ปริมาณ

4.0

ความสะอาด

3.0

ชุ่มชื้น ไม่แห้งตึง

3.0

ความสะดวกในการใช้

4.0

กลิ่น

1.0